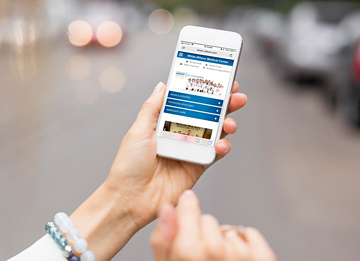 Technology is making everything easier. From your digital thermostat to the cool backup camera in your car, advances like these are making everyday tasks more convenient. Even though we are 72 years old, at White-Wilson, we are not too old to take advantage of new technology.
In recent months, White-Wilson Medical Center has implemented some new features that make it easier to contact your doctor's office, to schedule appointments and to communicate with our staff at a time that is convenient for you.
The White-Wilson Patient Portal now allows you to communicate with your doctor's office. You can send messages to clinic staff, ask questions, request prescription refills and appointments. Patients may login to the Patient Portal here: http://white-wilson.com/patientportal.htm.
You can request an invitation to register for the patient portal at Patient Accounts or by emailing info@white-wilson.com.
In addition, you may request appointments with the White-Wilson Family Medicine, Internal Medicine and Pediatric Clinics by visiting our website, www.white-wilson.com.  There, you can submit an appointment request from your physician's bio page on the website by clicking the blue "Schedule an appointment" button under your provider's photo. Once the request is received, our team will contact you to schedule an appointment at a time that is best for you.
We also know that during peak times, like back-to-school, appointment times slots can fill up quickly. To help patients get in to see a doctor faster, we have adopted a text messaging program to fill appointment slots that open in our schedule due to cancelations. If there is a cancelation, a private text will be sent to a group of patients who are scheduled for a later date. The first patient to respond will be able to take advantage of the earlier appointment date. You may also receive a text message to help you manage your health care and remind you to schedule important annual visits, such as an annual wellness exam or back-to-school physical.
Lastly, you may receive a call or email following your next visit with a survey about your experience with your White-Wilson health care provider. White-Wilson Medical Center is committed to improving the patient experience, and your feedback helps us to do that. The short survey only takes a few minutes to complete and provides us with important feedback so we can better serve our patients.
By investing in new technology, we hope to improve your experience at White-Wilson and make it easier to communicate with your doctor's office. Thank you for trusting White-Wilson with your health care!